Each fall, the Graduate Fellowship and Application Boot Camp brings to Duke talented undergraduates in STEM. The Boot Camp will encourage participants to think critically about their research interests and skills, provide practical strategies for the graduate admissions process, and introduce participants to Duke's Sloan departments. The Boot Camp is sponsored by the Alfred P. Sloan Foundation, the Duke University Center of Exemplary Mentoring, the Pratt School of Engineering, the School of Medicine, and The Graduate School.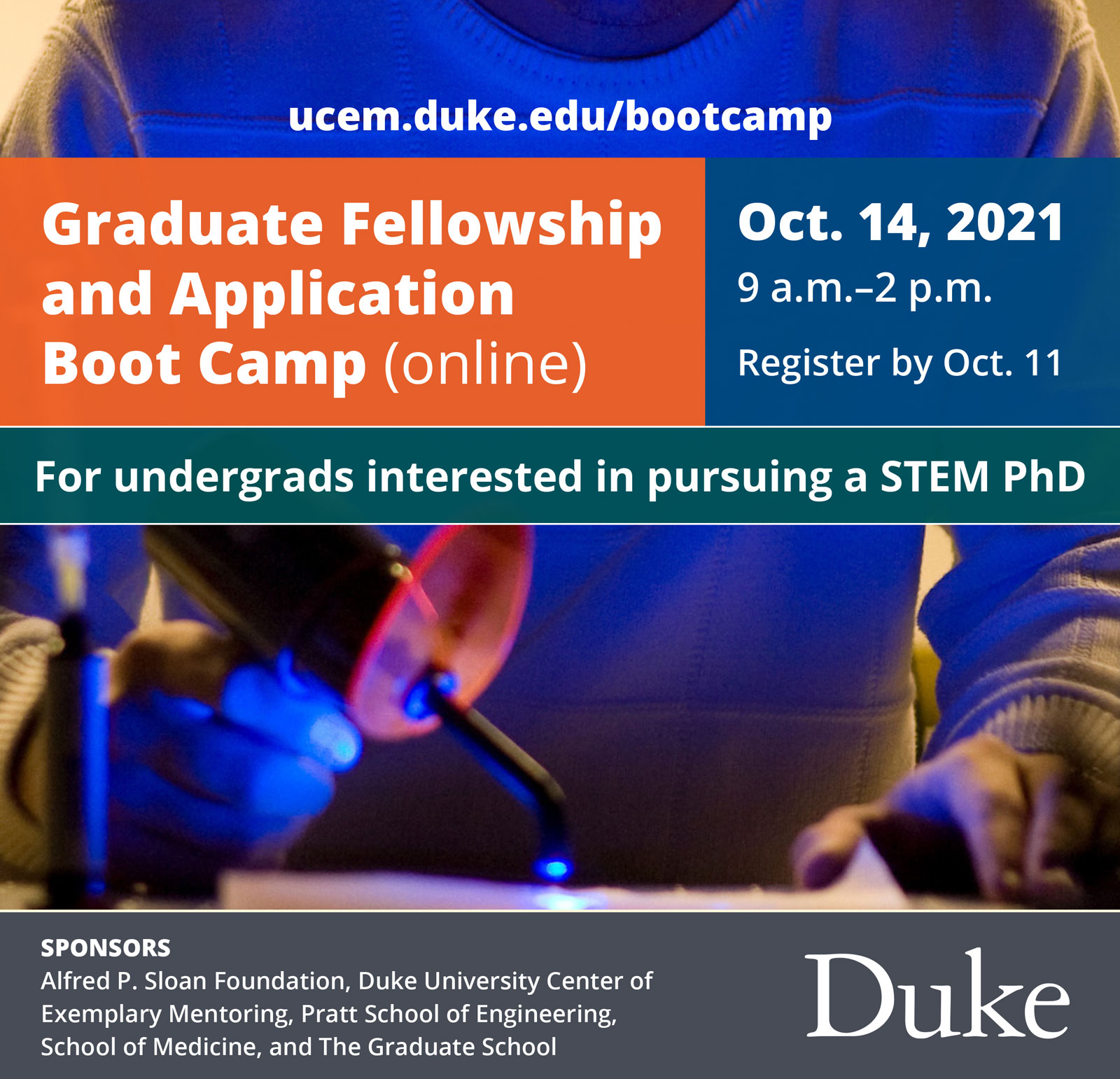 Because of pandemic safety measures, the 2021 Boot Camp will be held online October 14. The registration period  closes October 11.
Duke is dedicated to and benefits from a student population diverse in background, culture, socioeconomic status, race, ethnicity, and work and life experiences that contributes to a fuller representation of perspectives within the academic life of the university. The Boot Camp is part of the university's efforts to foster an intellectually and demographically diverse environment that supports creativity, innovation, and a strong sense of community.
September 2021 Boot Camp Details
Dates: October 14
Tentative Time: 9:00 a.m.–2:00 p.m.
Location: Online
Cost: None
Boot Camp participants will receive in-depth information on these topics and more:
How do I know if graduate school is for me?
What is the difference between a master's and a Ph.D. and the career opportunities for each path?
The graduate school admission process and how to develop a competitive application
Duke graduate programs and research opportunities
Duke Graduate school funding and fellowship opportunities
Summer research opportunities at Duke
Meet faculty and students in your research interests
Registration
Boot Camp attendees must complete the online registration form to verify their eligibility according to the criteria below.
Registration Dates
Register by: October 11, 2021
Criteria
Must be available for full workshop on Thursday, October 14, 2021.
Minimum of 3.0 GPA or above.
This workshop is intended for students from racial, ethnic, and gender groups historically underrepresented in computer science, physics, chemistry, earth and ocean sciences, mathematics, statistical science, and engineering. These groups include female/female-identifying students, and students from African-American, Hispanic, Pacific Islander, and Native American racial/ethnic groups.
Must have an interest in pursuing a graduate degree in chemistry, computer science, mathematics, physics, and statistical science, or related STEM field.
Must be a rising sophomore, junior, or senior in the 2020-21 academic year.
To Register
Submit your online registration by October 11.
Questions?
Dr. Alan Kendrick (alan.kendrick@duke.edu), Assistant Dean of Graduate Student Development at the Duke University Graduate School
Dr. Karis Boyd-Sinkler (karis.boydsinkler@duke.edu), Director of Diversity, Equity and Inclusion, Pratt School of Engineering