The Counseling and Psychological Services staff below will partner with the UCEM program to provide counseling services, referrals, and programming to Duke University's Sloan Scholars.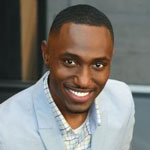 Marvice Marcus, Ph.D.
Assistant Director, Director of Training, Duke CAPS
919-660-1000
marvice.marcus@duke.edu
Biosketch
Marvice Marcus is a Psychology Resident and permanent staff member at CAPS. He earned a Ph.D. in Counseling Psychology from Washington State University and completed pre-doctoral internship training at Duke University CAPS. He has primarily worked in university mental health across three regions of the United States.
Dr. Marcus works with students who present with concerns related to adjustment, mood and anxiety disorders, social and familial conflict, and sexual identity and gender expression. He adopts an integrative approach to counseling, drawing on cognitive-behavioral therapy and interpersonal process. Other professional interests include men and masculinities, race and gender politics, and issues of diversity and inclusion. He is interested in developing ways to use cultural studies to contextualize human suffering, as well as to elucidate the underpinnings of thought processes and behavior. Dr. Marcus is a member of the American Psychological Association (Division 44) and the Association for Contextual and Behavioral Science.