The Counseling and Psychological Services staff below will partner with the UCEM program to provide counseling services, referrals, and programming to Duke University's Sloan Scholars.
Demah S. Payne III, Ph.D., LCMHC
Licensed Clinical Mental Health Counselor and Referral and Case Management Liaison, Duke CAPS
919-660-1000
demah.payne@duke.edu
Biosketch
Demah Payne enjoys working with students on a variety of issues, including anxiety, depression, stress, self-care, and suicidal ideation. His cultural background and identity have driven him to prioritize counseling with marginalized, discriminated, and oppressed communities. His counseling style reflects a person-centered, rational emotive behavior therapy, cognitive behavioral therapy, and positive psychology. I collaborate with clients to gain insight on how adversity, behavior, and consequences are related. Before joining the CAPS staff, he worked for 10 years as a school counselor at Pitt and Wake County public schools. He also has prior experience working as a licensed clinical mental health counselor and a crisis counselor. He completed his Ph.D. in Counseling and Counselor Education at North Carolina State University and completed my internship at the Community Counseling, Education and Research Center at NC State.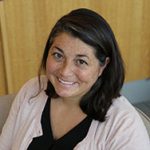 Catherine (Cat) Goyeneche, Psy.D.
Associate Director and Director of Training, Duke CAPS
919-660-1000
catherine.goyeneche@duke.edu
Biosketch
Catherine Goyeneche has professional interests in anxiety, depression, perfectionism, acculturative stress, couples counseling, outreach, and training. She also has particular interests in multicultural competency, Critical Mixed Race Studies, international study, and ACT. She completed her graduate degrees in Clinical Psychology at the Illinois School of Professional Psychology in Chicago, IL and The Citadel Graduate College in Charleston, SC. She completed a postdoctoral fellowship at the University of Chicago and then worked there as a staff psychologist and coordinator for the Academic Skills Assessment Program.