Co-Principal Investigators
The co-PIs oversee the implementation of the Duke UCEM and serve as chief advocates for the project. They work with the administrative oversight team, the advisory committee, faculty champions, and the chairs and directors of graduate studies in the nine UCEM departments to successfully carry out the UCEM's mission. They also coordinate all communications with the Sloan Foundation regarding the UCEM.
Suzanne Barbour, Ph.D.
Dean of The Graduate School and Vice Provost for Graduate Education
919-681-1560
suzanne.barbour@duke.edu
In September 2022, Dr. Suzanne Barbour became the dean of the Duke University Graduate School. Prior to that, she served in the same role at the University of North Carolina at Chapel Hill (2019-2022) and the University of Georgia (2015-2019). She has served as program director in the Division of Molecular and Cellular Biosciences at the National Science Foundation and as a professor of biochemistry and molecular biology in the School of Medicine at Virginia Commonwealth University. Previously at VCU, she led the graduate program in biochemistry and molecular biology, directed research training at the Center on Health Disparities and held affiliate appointments in the departments of African American studies, biology, and microbiology and immunology.
Dr. Barbour is committed to trainee success at the highest levels, including serving as an individual and group coach for postdoctoral scholars in the NIH Maximizing Opportunities for Scientific and Academic Independent Careers (MOSAIC) program and on advisory boards for the Council of Graduate Schools and Graduate Education Advisory Council of the Educational Testing Service. Throughout her career, she has mentored dozens of students and received numerous awards for professional achievement and teaching excellence. Dr. Barbour graduated from Rutgers University with a baccalaureate degree in chemistry and a doctorate in molecular biology and genetics from The Johns Hopkins University. She completed a postdoctoral fellowship at the University of California, San Diego. Her research interests are focused on phospholipases A2 and lipid signaling in metabolic diseases.
Adrienne D. Stiff-Roberts, Ph.D.
Jeffrey N. Vinik Professor of Electrical and Computer Engineering
919-660-5560
adrienne.stiffroberts@duke.edu
Biosketch
Adrienne Stiff-Roberts brings experience in mentorship, outreach, and program development for engineering graduate students to the committee. She holds Duke's Julian Abele Award for Graduate Mentor of the Year (2016), serves as the director and instructor for the Student Engineering Network: Strengthening Opportunities in Research (SENSOR) Saturday Academy for 8th and 9th graders in Durham Public Schools, and is the faculty advisor for the Duke University Chapter of the National Society of Black Engineers (NSBE). She also serves as the Director of Graduate Studies for the University Program in Materials Science and Engineering. Dr. Stiff-Roberts received both the B.S. degree in physics from Spelman College and the B.E.E. degree in electrical engineering from the Georgia Institute of Technology in 1999. She received an M.S.E. in electrical engineering and a Ph.D. in applied physics in 2001 and 2004, respectively, from the University of Michigan, Ann Arbor. Dr. Stiff-Roberts joined Duke in August 2004. Her research interests include the synthesis of multi-component and hybrid (organic-inorganic) materials using a novel approach for organic-based thin film deposition that combines solution and vacuum-processing.
---
Duke Leadership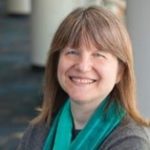 Sally Kornbluth, Ph.D.
Provost
kornb001@mc.duke.edu
Biosketch
Sally Kornbluth, Ph.D. was appointed Duke University Provost on July 1, 2014 and was reappointed to a second five-year term beginning July 1, 2019. In this role, she serves as the chief academic officer, responsible for the university's teaching and research mission, developing the institution's intellectual priorities and overseeing their implementation. Kornbluth served as Vice Dean for Basic Science at Duke University School of Medicine from 2006-2014. In this role, she served as a liaison between the Dean's office and the Basic Science Department Chairs and faculty, including oversight of the biomedical graduate programs in the School of Medicine, implementation of programs to support the research mission of the basic science faculty, and oversight of new and existing core laboratories.
Kornbluth received a B.A. in Political Science from Williams College in 1982 and a B.S. in Genetics from Cambridge University, England in 1984 where she was a Herchel Smith Scholar at Emmanuel College. She received her Ph.D. from The Rockefeller University in 1989 in Molecular Oncology and went on to postdoctoral training at the University of California, San Diego. She joined the Duke faculty in 1994 and is currently the Jo Rae Wright University Professor.
Kornbluth's research interests include the study of cell proliferation and programmed cell death, areas of central importance for understanding both carcinogenesis and degenerative disorders. She has published extensively in these areas, studying these problems in a variety of model organisms. She is a member of the National Academy of Medicine, the National Academy of Inventors, and the American Academy of Arts & Sciences.
Jerome P. Lynch, Ph.D. F.EMI
Vinik Dean of the Pratt School of Engineering
prattdeansoffice@duke.edu
Jerome P. Lynch is the Vinik Dean of Duke University's Pratt School of Engineering, Professor of Civil and Environmental Engineering, and Professor of Electrical and Computer Engineering.
Lynch is an expert in the field of advanced sensing and information technologies for monitoring and control of civil infrastructure systems and is an advocate for community engagement in research. He is also a Fellow of the American Society of Civil Engineering (ASCE) Engineering Mechanics Institute and led the University of Michigan's Department of Civil and Environmental Engineering as department chair from 2017 to 2021.
His research program advances cyber-physical system architectures that combine sensing, computing and control to create intelligent civil infrastructure systems. He is best known for his pioneering work in structural health monitoring that allows the performance and health of civil infrastructure systems to be assessed based on monitoring data to improve system safety and resilience. To elevate the impact of his research, he co-founded and directed the Urban Collaboratory at the University of Michigan, an interdisciplinary research institute that partners with community stakeholders to define challenges and to develop sustainable solutions based on smart city technologies and socially-engaged design methods.
His research and teaching accomplishments have been celebrated with several honors including the 2005 ONR Young Investigator Award, 2009 NSF CAREER Award, 2009 Presidential Early Career Award for Scientists and Engineers, 2012 ASCE Leonardo da Vinci Award, and 2014 ASCE Huber Award.
Lynch also has extensive experience commercializing engineering technologies. He holds three U.S. patents, has two patents pending and has founded two companies – Civionics and Sensametrics – to implement commercial applications of his research.
Mohamed A. F. Noor, Ph.D.
Interim Dean of Trinity College of Arts & Sciences
noor@duke.edu